Shifters
Winter's Rock Crawler Shifter
Winter's "Rock Crawler Shifter" features a straight pass from reverse to low, with all other selections to the other side. This design eases "rocking" vehicle back and forth.
Rock Crawler shifters feature reverse pattern gate and are designed for use with reverese pattern valve body.
Like all Winter's shifter, shifter linkage, and 5' cable are included.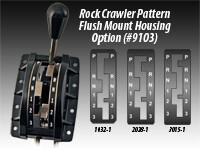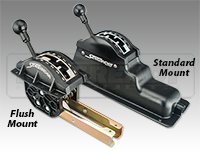 Also available as optional flush mount version (shown in picture) -no extra charge. Select WNTR9103 when ordering.
Universal Flush Mount Side Plate (P/N 6636-02) is also available separately to convert standard shifter to flush mount. (requires 2)

Winters Shifter Parts & Dimension Diagram
Sku List:

WNT-R357-2C
Shifter
| C-4 | Reverse Pattern | Winters
Price: $273.96
WNTR-107-2C
Shifter
| TH-400 | Reverse Pattern | Winters
Price: $273.96
WNTR-157-2C
Shifter
| TH-350 | Reverse Pattern | Winters
Price: $273.96
WNTR-177-2C
Shifter
| T-700R4 | Reverse Pattern | Winters
Price: $273.96
WNTR-187-2C
Shifter
| 4L80E | Rev. Pattern | Winters
Price: $273.96
WNTR-207-2C
Shifter
| TF-8 & 727 | Reverse Pattern | Winters
Price: $273.96
WNTR-257-2C
Shifter
| TF-904 | Reverse Pattern | Winters
Price: $273.96
WNTR-307-2C
Shifter
| C-6 | Reverse Pattern | Winters
Price: $273.96
WNTR-607-2C
Shifter
| Toyota A340 or Jeep AW4 | Reverse Pattern | Winters
Price: $273.96
WNTR-6636-02
Side Plate
| Flush Mount Side Plate-Each | Black
Price: $33.95
WNTR-9103
Flush Mount Option
| No Extra Charge
Price: