Tires
Tri-Ace Dakar Rally Race Tire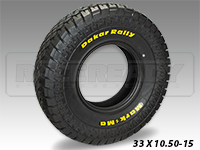 Tri-Ace Dakar Rally Race Tire

New to the off-road racing market, Tri-Ace tire is making its mark by offering the new Dakar Rally Race Tire.

Tough construction- 3 plies Aramid Fiber (Kevlar) +2 Steel Belts +3 Plies Polymide secures extra strong casing under any extreme conditions.


Dedicated Rally Competition Compound.
Effectively reduces the heat generated at high speed, maintaining corresponding shape during high speed or hard cornering, ensuring predictable stable handling performance.
Advanced Reactive Contour Design.
Provides consistent even tread wear throughout the tire lifecycle.
Optimised Gaunt-Infusion Tread Design.
Interlocking boomerang blocks with high void Off Road bite with stone ejector ribs. Exaggerated shoulder blocks reduce the tire distortion and increase road contact.
33 X 10.50-15....$237.50 each.


35 X 10.50-15....$275.00 each.
Not for Highway Use
Call for shipping quote.
Other sizes:
35 X 12.50R-17
37 X 12.50R-17
39 X 13.50R-17