Cooling
Fluidyne Enduro Shrouded Oil Cooler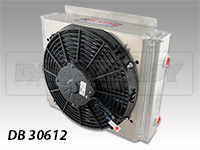 The Enduro has its own 11" DC fan mounted directly to the cooler which allows installation in any remote location. The unit comes with 4 threaded fittings allowing for the installations of a transmission oil temperature gauge sensor right on the cooler where it can indicate either oil inlet temperature or oil outlet temperature. This unit has visited thousands of off-road winner's circles, where its performance and reliability have certainly been proven! Take a look at todays winning Trophy Trucks, Class 8, and Class 7 race vehicles and more than likely you'll see these coolers installed. Call today and forget about your transmission cooling worries! (Dual Pass DB-30613 not pictured) Also available with 11" Paddle Fan Blade with increased CFM for better heat removal.
All Fluidyne Enduro Coolers use 1/2" NPT fittings.
Measures 15L" X 14W" X 7T"
Sku List:

FLUDB30612
Fluidyne Enduro Single Pass Transmission Cooler
| 11" Flat Blade Fan | Fluidyne
Price: $499
FLUDB30612-S11
Fluidyne Enduro Single Pass Transmission Cooler
| 11" Paddle Blade Fan | Fluidyne
Price: $599
FLUDB30613
Fluidyne Enduro Dual Pass Transmission Cooler
| 11" Flat Blade Fan | Fluidyne
Price: $515
FLUDB30613-S11
Fluidyne Enduro Dual Pass Transmission Cooler
| 11" Paddle Blade Fan | Fluidyne
Price: $599