Drivetrain
Sway-A-Way VW Wheel Studs & Nuts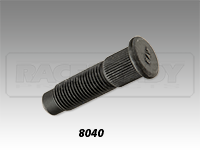 Wheel studs and nuts are critical components on any race car, but more so on off-road race cars due to the severe forces and abuse involved. Sway-A-Way's VW Wheel studs and nuts are manufactured from top quality aircraft alloy steel. Both the nuts and studs are cold headed, and all threads are rolled for maximum strength. Two of the studs, Part No. 8030 & 8040 have starter leads for perfect nut alignment and fast tire changes. Installation requires a hole drilled and reamed to .562" diameter. Part No. 8050 lug nuts have correct ball seat area for popular VW racing wheels such as Centerline, BTR, Method, and Raceline. All threads are stock 14mm-1.5 pitch CA Prop 65 Warning

Generally speaking, we recommend using short studs (8030-48mm) on early 5 lug drums, and long studs (8040-57mm) on the 5 lug Thing and Type 3 rear drums and all 4 lug drums.
Call us if you are unsure which stud to use for your application.
SOLD IN PACKS OF 10 STUDS or 10 NUTS
Sku List:

SAW-8030
Wheel Stud-10 Pk.
| 48mm Long | 14mm x 1.5 | Sway-A-Way
Price: $39.9 $37.9
SAW-8040
Wheel Stud-10 Pk.
| 57mm | 14mm x 1.5 | Sway-A-Way
Price: $40.9 $38.9
SAW-8050
Wheel Nut-10 pk.
| VW Ball Seat | 14mm x 1.5 | Sway-A-Way
Price: $28.5 $27