Tools
WRP Threadlocker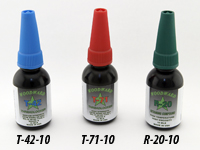 WRP Threadlocker adhesive sealants are room temperture curing products designed to lock and seal metallic mechanical assemblies. They have an anaerobic curing mechanism engineered into the formula to cause them to quickly polymerize upon assembly of parts.
Use Woodward anaerobic adhesives to prevent vibration loosening, to increase off torque without increasing clamp load, and wherever it is important to seal the thread path from a corrosive environment or prevent the leakage of valuable lubricants.
Used by many off-road race teams to keep their cars together.


WRP T-42 Threadlocker - Blue/Medium Strength For applications with an anticipated future dis-assembly using moderate effort on threaded fasteners with a diameter up to 3/4" (19mm). Available in 10ml and 50ml. bottles.
WRP T-71 Threadlocker - Red/High Strength For applications that are intended to be permanent on threaded fasteners with a diameter up to 1" (25mm). Available in 50ml. bottle only. (WRP T-71-10 is no longer available)
WRP R-20 Retaining Compound - Green To be used for bonding mating cylindrical parts such as bushings,bearings,pulleys and hubs pressed onto shafts and splines where temperatures up to 400 degrees may be encountered. Available in 10ml., and 50ml. bottles.
Sku List:

WRP-R-20
Threadlocker
| 50 ml. | Retaining Compound | Green | Woodward Race Products
Price: $32
WRP-R-20-10
Threadlocker
| 10 ml. | Retaining Compound | Green | Woodward Race Products
Price: $15
WRP-T-42
Threadlocker
| 50 ml. | Medium Strength | Blue | Woodward Race Products
Price: $32
WRP-T-42-10
Threadlocker
| 10 ml. | Medium Strength | Blue | Woodward Race Products
Price: $15
WRP-T-71
Threadlocker
| 50 ml. | Hi-Strength | Red | Woodward Race Products
Price: $32