Brakes & Pedals
ProAm 930 MS1600N Rear Disc Brake Kit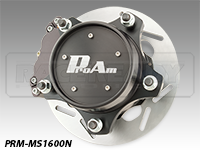 ProAm Racing Microstub MS1600N Kits are built and designed for 1600 class buggies and 5/1600 baja bug racing applications. ProAm "HD" bearings are the best in the business
Kit includes; 2x hubs with pressed in studs, HD bearings, stub-axles, lug nuts, wheel centering caps w/hardware, rotors bolted to the hats, and calipers w/pads.
Features include:
"Wide 5" - 5 on 205mm lug pattern - 14mm studs w/VW ball seat lug nuts.

33 spline ProAm stub axles 100% USA MADE

HD 100% USA MADE BEARING - 3 7/8 OD with 14mm pressed in studs

Adapter plate, hat are constructed from domestic "aircraft quality" material

Adapter plates, hats, and caps come hard anodized with a brilliant premium black finish, adding a layer of protection that decreases wear and corrosion.
ProAm labeled center cap - ALL 100% USA MADE

This standard kit come with OEM branded 4-piston calipers with 4" brake pads - Caliper mounting spread is 5.25"

Top of the line "PRM" kits come with ProAm "4993RN" 4-piston (100% USA MADE) calipers with 4" brake pads.

"E" pads are standard, other compounds available in special order only.
Sku List:

PRM-MS1600N
Micro-Stub Brake Kit
| 930 CV | OEM Caliper | ProAm
Price: $2199.99 $1995
PRM-MS1600N-PRM
Micro-Stub Brake Kit
| 930 CV | ProAm Caliper | ProAm
Price: $2499.99 $2295