Lights
LP560 6" LED Driving Light Kit, SAE Compliant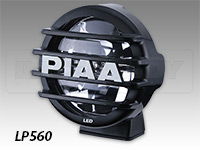 LP560 6" LED Driving Light Kit, SAE Compliant
Need longer range? The PIAA 560 six inch LED Long Range driving lights. Reflector-facing LEDs project off of an ingenious computer-designed multi-surface reflector offering more and better illumination than halogen lights with the durability and low power draw of LED lighting. Kit includes two lights mounting brackets complete wiring harness and detailed installation instructions. Poly-carbonate and cast aluminum housing with poly-carbonate lens.


PIAA's advanced Reflector Facing Technology (RFT)
PIAA wanted to perfect LED lighting when they designed rearward-facing bulbs and new "first-in-the-industry" reflector technology. The innovative design offers significantly improved lighting and beam control compared to conventional LED and halogen lamps with forward-facing bulbs. The result is greater visibility for drivers.
Key to achieving these performance advantages is PIAA's advanced Reflective Facing Technology (RFT). PIAA's exclusive computer-designed, multi-surface reflector concentrates and focuses the beam pattern of the rearward-facing LED bulbs more precisely than forward-facing LED lamps. RFT is featured in PIAA's LP Series and RF Series LED lights.
Both series of PIAA LED lamps provide brilliant illumination, but with lower power consumption than conventional LED and halogen lamps. They light the road with brilliant cobalt-blue color that is clearly visible to oncoming traffic, providing an added measure of driving safety. The lamps are compact and durable, with the cast aluminum housings and polycarbonate lenses.
» More Light Per-Watt Than The Competition
» Focused Beam Pattern in fog or driving
» Maximizes Light to Conserve Amp Draw
» More Light Where You Need It


PIAA LP560 LED driving lights feature reflector-facing LED bulbs and a geometrically-perfect reflector to provide precise beam control and increased output.
Two 7 watt LEDs
Reflector Facing Technology
Brilliant 6000k Light Output
6" Diameter
SAE Compliant
NEW LOWER PRICE!
Sku List:

PIAA-05672
LED Lamp Kit
| Driving Pattern | 6" | 14 Watt | PIAA
Price: $479 $399