Cooling
CBR Mini Oil Coolers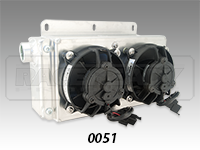 CBR has recently introduced its "MINI COOLERS" to the market. If you are looking for a small cooler/fan combo, these will solve your issue. Mini Oil Coolers can fit in those tight, confined spaces that just seem to be wasted space. These coolers feature the same design as the Large Off-Road Coolers. They are compatible with all oil and transmission fluid systems. The coolers can be used for universal cooling applications such as differential, power steering and small engine cooling applications.
Two sizes to choose from:
CBR 0051....... 10 1/2" X 7" X 5 3/4"
CBR 0052....... 15" X 8" X 6"
Sku List:

CBR-0051
Mini Oil Cooler
| Dual 4" Spal Fans | 10 1/2" X 7" X 5 3/4" | -10 ORB | CBR
Price: $534
CBR-0052
Large Mini Oil Cooler
| Dual 5.2" Spal Fans | 15" X 8" X6" | -10 ORB | CBR
Price: $570