New Products
Vision-X Chaser Rear LED Light Bar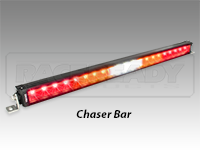 The all-new XPL Chaser Series LED Bars with integrated static/flashing Amber, Red Brake/Tail lights, and reverse/utility light are the pinnacle of chase light performance & value in its category. XPL Chasers are available in 28" and 35" models, and will improve safety and others following during the day or night, including dust or fog conditions. Need more light when reversing or to see in the bed of the vehicle? No problem the center white light has you covered. The lighting configuration is ideal for both, sport or race enthusiasts:
At only 2" tall, the XPL's slim design and function make it ideal for many applications including: Trucks, Jeeps, UTVs, and Trailers. The XPL Chaser features top-binned 3W CREE LEDs to shine 180 degrees of light, while side wing mounts help make installation a breeze.
Driving in a wet and dusty environment? No problem. Each XPL Chaser LED Light bar is IP-67/69K rated with a Nitto-Denko pressure release valve and simple wiring instructions. Rest assured the XPL Chaser build-quality and Lifetime Limited Warranty will let you shine wherever you go for many years to come.
Red Brake & Tail | Static Amber | White Reverse/Utility | Flashing Amber | Red Brake & Tail
LED Chaser Bar Features:
High Output Color LED's
Ultra Low Profiler 2" Housing
2 Sizes Available for Stock and Aftermarket Cages
Taillight, Brake, Static, Flashing and Reverse Circuits

Specifications:
XPL-CBSR28 is 27.15"
Amp Draw 5.75Amp at 12V DC
69 Watts
XPL-CBSR35 is 35.75"
Amp Draw 8.17Amp at 12V DC
98 Watts
IP67 Rated
Lifetime Limited Warranty
Sku List:

VISX-XPL-CBSR28
Chaser LED Light Bar
| 27.15" | 69 Watts | RED/AMBER/WHITE | Vision-X
Price: $369
VISX-XPL-CBSR35
Chaser LED Light Bar
| 35.75" | 98 Watts | RED/AMBER/WHITE | Vision-X
Price: $429