New Products
Tensor Desert Series Tire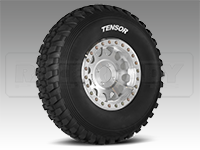 With thick tread blocks, ribbed sidewalls and specifically designed for the UTV teams, the Tensor Desert Series is what you need.
The DS Race Tire is a light truck tire design made with a mean tread and clean ribbed sidewalls. It is perfect for the weekend warrior or competitive racer. There DS is a proven Baja 1000 champion.
The Tensor DS is the evolution of the widely successful 'Regulator A/T' and was developed strictly for UTV off-road competition use (not DOT approved). With a softer compound, the 'DS' offers superior performance under race conditions. The DS is available in a 32x10x15 and boasts the lowest weight of any race tire on the market at 34.5 lbs. With the improved compound and a 1600 lb. load rating, the DS gives racers the ultimate balance between durability and performance. Ribbed shoulders offer extra protection in a puncture-prone area of the tire. Per Tensor's suggestion, the optimum pressure range is between 14-18psi depending on race conditions and driver preference.
Key Features:
- MADE IN THE USA
- THICK TREAD BLOCKS ALLOW FOR CUSTOM GROOVING
- RIBBED SIDEWALL SHOULDER FOR ENHANCED PUNCTURE RESISTANCE
- SPECIFICALLY DEVELOPED FOR THE NEEDS OF THE MODERN UTV RACE TEAM
Sizing & Pricing:
32 X 10R15 - $299.50
35 X 10.50R15 - $399.50