Shifters
Fortin Billet Shifter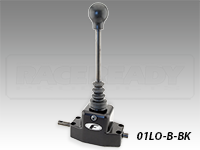 Fortin Racing's newest shifter is made from 6061 T-6 aluminum for precise shifting and rock solid gear selection. These great looking billet aluminum shifters feature sealed bearings which makes this shifter virtually maintenance free.
Fortin Billet shifters are available in standard, or reverse lock-out designs.
All shifters features 34 degree shift shaft rotation and .800" travel.
Perfect for off-road racing or sand cars. The sealed linear ball bearings and hardened shafts help keep dirt and debris out.
01 Fortin Billet Shifter is available for the following applications:
Rear Engine Fortin (Non Lock Out) Use 01-B or 01-BBK
Rear Engine Bus Box (Lock-Out) Use 01LO-B or 01LO-BBK
Rear Engine 4-Speed Mendola (Lock-Out) Use 01LO-B or 01LO-BBK
Mid-Engine Albins (Non Lock-Out) Use 01-B or 01-BBK
Sku List:

FTN-01-B
Billet Shifter
| Non Lockout | Machined Aluminum | Fortin
Price: $498
FTN-01-B-BK
Billet Shifter
| Non Lockout | Anodized Black | Fortin Racing
Price: $498
FTN-01LO-B
Billet Shifter
| Lockout | Machined Aluminum | Fortin Racing
Price: $502
FTN-01LO-B-BK
Billet Shifter
| Lockout | Anodized Black | Fortin Racing
Price: $502