UTV Parts
KMC XS234 Addict 2 Beadlock Wheel Satin Black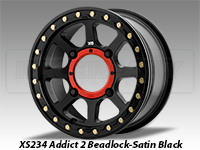 KMC XS234 Addict 2 Wheel-Satin Black
A split eight-spoke mesh has a powerful, yet respectable style that is both race and street inspired. Cast aluminum construction means it can take what any terrain dishes out.
Features
- Off-road version of the popular Grenade wheel
- Split Eight-spoke mesh
- Desert inspired race bead ring
- Removable billet ring center cap (optional colors available)
14" x 7"...$200.00 ea. 14" x 10"...$235.00 ea.
15" x 6"...$215.00 ea.
Available in 4 x 110, 4 x 137, and 4 x 156 Bolt Patterns.
Offsets available - 0mm, 10mm, and 38mm. in various backspaces.