Brakes & Pedals
JAMAR JCA6 Brake Pedal Swing Mount-Dual Non Reservoir Master Cylinders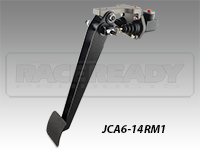 JAMAR JCA6 Swing Mount Pedal Assembly - Non Reservoir Master Cylinders.
This dual cylinder swing mount brake pedal assembly features an adjustable balance bar to adjust desired front to rear pressure bias for proper brake balance. Precision made aluminum non-reservoir master cylinders with hardened bores. Available with 14" or 16" Pedal. Longer pedals help to increase leverage ratios for heavier buggies and trucks.
14" Pedal Ratio 9.3:1
16" Pedal Ratio 10.6:1
FEATURES:
Sure-grip foot pad.
Total-seal rubber boots.
Adjustable balance bar for dial in of front and rear pressure ratios.
Steel pedal arm.
Sku List:

JMR-JCA-14RM1
Pedal Assembly
| Swing Mount | 14" Pedal | Remote M/C | JAMAR
Price: $559
JMR-JCA-16RM1
Pedal Assembly
| Swing Mount | 16" Pedal | Remote M/C | JAMAR
Price: $559