Brakes & Pedals
JAMAR Park Lok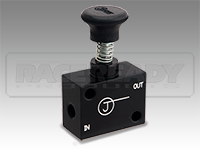 Jamar Park-Lok is a hydraulic line lock which uses the pressure from the brake system to hold your brakes locked. Step on the brake pedal, push the Park-Lok down, let off brake pedal, and it's locked. To release simply press on the brake pedal again and it opens automatically. Designed to hold your buggy stationary, and is great for holding vehicle in place while trailering to eliminate pounding on transmission ring & pinion.
THIS UNIT IS NOT INTENDED TO BE USED AS AN EMERGENCY BRAKE.


Choose JPK1 for DOT 3 Brake Fluid.
Choose JPK1 BN for Silicone, or Dot 3 Brake Fluid.
Brake line fittings sold separately.
Sku List:

JMR-JPK1
Line Lock
| DOT 3 Brake Fluid | 1/8" Pipe | Anodized Black | Jamar
Price: $41.25
JMR-JPK1BN
Line Lock
| Silicone or DOT 3 Brake Fluid | 1/8" Pipe | Anodized Black | Jamar
Price: $44