Fresh Air Helmet Systems
Impact Air Draft OS20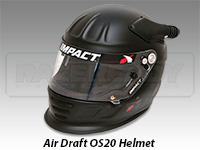 The Impact Air Draft OS20 Helmet fits and performs in the most extreme environments. The off-centered and left-positioned air inlet offers added overhead clearance in the cockpit while the air port is angled 20 degrees to provide ease of movement with the fresh air hose. The wide eye port offers an exceptional range of peripheral vision. Fresh air is pumped through three individual air channels routed to direct air onto the visor preventing dust and fog from interfering with vision. Manufactured from Impact's "Intelligent Gray Matter" inner liner and upholstered with soft-knit fire-retardant Nomex® fabrics. USA. CA Prop 65 Warning
Impact Sizing Chart
Features:

SNELL SA2015 CERTIFIED
Shell construction featuring proprietary American space-age Carbon-Kevlar tri-weave composite.
Extended chin foil captures downward airflow to reduce helmet lift and buffeting.
Forward facing louvered chinbar vents.
Gray Matter fire-retardant covered liner made of Impact's "intelligent" single piece variable-density core.
Interchangeable cheekpads for a perfect fit (comes with std cheekpads, other sizes are extra).
Fire-retardant Kevlar® chinstrap with locking dual D-ring design.
.125" Clear Shield comes standard with 3 position detent.


Helmet radio wiring is available. Choose CAC HlmtWire to add to order.
Sku List:

CAC-HlmtWire
Helmet Wiring-Installed
| Cactus Racing
Price: $100
IMP-19999208
Air Draft Helmet
| OS 20 | X-Small | Silver | Impact
Price: $869
IMP-19999209
Air Draft Helmet
| OS 20 | X-Small | White | Impact
Price: $869
IMP-19999212
Air Draft Helmet
| OS 20 | X-Small | Flat Black | Impact
Price: $869
IMP-19999308
Air Draft Helmet
| OS 20 | Small | Silver | Impact
Price: $869
IMP-19999309
Air Draft Helmet
| OS 20 | Small | White | Impact
Price: $869
IMP-19999312
Air Draft Helmet
| OS 20 | Small | Flat Black | Impact
Price: $869
IMP-19999408
Air Draft Helmet
| OS 20 | Medium | Sliver | Impact
Price: $869
IMP-19999409
Air Draft Helmet
| OS 20 | Medium | White | Impact
Price: $869
IMP-19999412
Air Draft Helmet
| OS 20 | Medium | Flat Black | Impact
Price: $869
IMP-19999508
Air Draft Helmet
| OS 20 | Large | Silver | Impact
Price: $869
IMP-19999509
Air Draft Helmet
| OS 20 | Large | White | Impact
Price: $869
IMP-19999512
Air Draft Helmet
| OS 20 | Large | Flat Black | Impact
Price: $869
IMP-19999608
Air Draft Helmet
| OS 20 | Extra Large | Sliver | Impact
Price: $869
IMP-19999609
Air Draft Helmet
| OS 20 | Extra Large | White | Impact
Price: $869
IMP-19999612
Air Draft Helmet
| OS 20 | Extra Large | Flat Black | Impact
Price: $869