Electrical Components
Fuel Safe Fuel Level Sender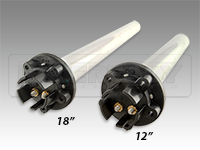 Fuel Safe's Fuel Level Senders ball in tube design measures specific resistance curves and are programmed to output preset ohms or volts. These built tough senders are designed to provide reliable readings and are compatible with gasoline, oil, or diesel. All Fuel Safe Senders are built with a specific ohm range E.G. 0-90 ohm, 10-180 ohm etc (empty-full) Please check your fuel gauge ohm rating and fuel tank depth to order corresponding sending unit. End caps keep tube free of debris.
CA Prop 65 Warning




Mount kit includes rubber gasket, mounting plate, screws, and screw seals.
Senders must be installed +-10 degrees from vertical for best results.
12 Volt (6 Volt and 24 Volt are available as special order)
No adjustments can be made to length or resistance.
Complete instructions are included for sender set-up procedures.
NOTE: NOT COMPATIBLE WITH E85 (available as a special order-inquire)
*THESE FUEL LEVEL SENDERS ARE SPECIAL ORDER ITEMS-ALLOW 4 WEEKS TO SHIP.
Many other length senders are available as special order-inquire
Sku List:

FS-SU12-0-90
Fuel Level Sender
| 0-90 Ohm | 12 Volt | 12" | Fuel Safe
Price: $91
FS-SU12-10-180
Fuel Level Sender
| 10-180 Ohm | 12 Volt | 12" | Fuel Safe
Price: $96
FS-SU12-240-33
Fuel Level Sender
| 240-33 Ohm | 12 Volt | 12" | Fuel Safe
Price: $91
FS-SU12-76-6
Fuel Level Sender
| 76-6 Ohm | 12 Volt | 12" | Fuel Safe
Price: $91
FS-SU17-0-90
Fuel Level Sender
| 0-90 Ohm | 12 Volt | 17" | Fuel Safe
Price: $96
FS-SU17-240-33
Fuel Level Sender
| 240-33 Ohm | 12 Volt | 17" | Fuel Safe
Price: $96
FS-SU24-0-90
Fuel Level Sender
| 0-90 Ohm | 12 Volt | 24" | Fuel Safe
Price: $96
FS-SU24-240-33
Fuel Level Sender
| 240-33 Ohm | 12 Volt | 24" | Fuel Safe
Price: $96