Shocks
FOX-SHOX-Rebuild-Kits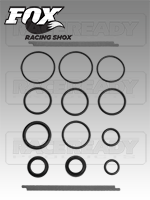 We stock rebuild kits for 2.0", 2.5", 3.0", and 3.5" size shocks. 4.0" and 4.4"kits are availabe special order. Popular replacement parts like shafts, seals, bearing assemblies, reservoir caps etc. are available. We stock the parts you will need to keep your Fox Shox race prepped.
We also stock shock oil, valving shims, and we can assist you with your shock tuning questions.
We stock high quality FOX SHOX Racing Oil in JM92 RED HIGH TEMP. for all FOX shocks. Sold by the gallon or the quart.


FOX SHOX REBUILD KITS
Kit: Rebuild, 2.0 Series [Ø 0.625" Shaft, Ø2.0 Reservoir]...803-00-255-A
Kit: Rebuild, 2.0 Series [Ø 0.875" Shaft, Ø2.0 Reservoir]...803-00-256-A
Kit: Rebuild, 2.0 Series [Ø 0.875" Shaft, Ø2.0 Reservoir] Viton...803-00-545
Kit: Rebuild, 2.0 Series Bypass [Ø 0.625/0.875" Shaft, 6 Tube, Ø 2.0 Reservoir] Viton...803-00-683
Kit: Rebuild, 2.0 Series [Ø 1.250" Shaft, Emulsion] Air Shock / Bump Stop...803-00-006-A
Kit: Rebuild, 2.5/3.0 Series [Ø 0.875" Shaft, R/R, Ø 2.0/2.5 Reservoir]...803-00-020-A
Kit: Rebuild, 2.5 Series Bypass [Ø 0.875" Shaft, 6 Tube, Ø 2.5 Reservoir] Viton ...803-00-676
Kit: Rebuild, 2.5 Series [Ø 0.875" Shaft, Piggy-Back, Ø 2.0 Reservoir, Internal Bypass]...803-00-257-A
Kit: Rebuild, 2.5 Series Internal Bypass [Ø0.875" Shaft, Ø2.5 Reservoir] Viton...803-00-754
Kit: Rebuild, 3.0 Series Internal Bypass [Ø 0.875" Shaft, Ø2.5 Reservoir] Viton...803-00-755
Kit: Rebuild, 2.5/3.0 Series [Ø 0.875" Shaft, Ø 2.0/2.5 Reservoir] Viton...803-00-268-A
Kit: Rebuild, 3.0 Series [Ø 1.000" Shaft, R/R, Ø 3.0 Reservoir] Viton...803-00-562
Kit: Rebuild, 3.0 Series Bypass [Ø 0.875" Shaft, 6 Tube, Ø 2.5 Reservoir] Viton...803-00-678
Kit: Rebuild, 3.0 Series Bypass [Ø 1.000" Shaft, 6 Tube, Ø 2.5 Reservoir] Viton...803-00-679
Kit: Rebuild, 3.0 Series Bypass [Ø 1.125" Shaft, 6 Tube, Ø 3.0 Reservoir] Viton..803-00-170-A
Kit: Rebuild, 3.5 Series Bypass [Ø 1.000" Shaft, 6 Tube, Ø 3.0 Reservoir] Viton...803-00-218A
Kit: Rebuild, 4.0 Series Bypass [Ø1.125" Shaft, 6 Tube, Ø3.5 Reservoir] Viton...803-00-795
Kit: Rebuild, 4.4 Series Bypass [Ø 1.250" Shaft, 6 Tube, Ø 3.0/3.5 Reservoir] Viton...803-00-579
Kit: Rebuild, 2.5 Series [Ø 0.625" Shaft, R/R] Challenger Rear...803-00-267-A
Sku List:

FOX-025-03-011
Racing Shock Oil
| Synthetic | Quart | Red | Fox Racing Shocks
Price: $25
FOX-025-03-012
Racing Shock Oil
| Synthetic | Gallon | Red | Fox Racing Shocks
Price: $65
FOX-803-00-006-A
Rebuild Kit
| 2.0 x 1.25" Shaft Air Shock & Bump Stop | Fox Shox
Price: $19
FOX-803-00-020-A
Rebuild Kit
| 2.5/3.0 7/8" Shaft with 2.0/2.5 Reservoir | Fox Shox
Price: $17
FOX-803-00-170-A
Rebuild Kit
| 3.0 x 1.125" Shaft Bypass with 3.0 Reservoir Hi-Temp | Fox Shox
Price: $44
FOX-803-00-218-A
Rebuild Kit
| 3.5 x 1" Shaft Bypass with 3.0" Reservoir Hi-Temp | Fox Shox
Price: $39
FOX-803-00-255-A
Rebuild Kit
| 2.0 x 5/8" Shaft with 2.0" Reservoir | Fox Shox
Price: $15
FOX-803-00-256-A
Rebuild Kit
| 2.0 x 7/8" Shaft with 2.0" Reservoir | Fox Shox
Price: $15
FOX-803-00-257-A
Rebuild Kit
| 2.5 x 7/8" Shaft Internal Bypass with 2.0" Reservoir | Fox Shox
Price: $17
FOX-803-00-267-A
Rebuild Kit
| 2.5 x 5/8 Shaft with 2.5 Reservoir-Challenger Cl.9 | Fox Shox
Price: $14
FOX-803-00-268-A
Rebuild Kit
| 2.5/3.0 7/8" Shaft with 2.0/2.5 Reservoir Hi-Temp | Fox Shox
Price: $19
FOX-803-00-545
Rebuild Kit
| 2.0 x 7/8" Shaft with 2.0" Reservoir-Hi-Temp | Fox Shox
Price: $17
FOX-803-00-562
Rebuild Kit
| 3.0 x 1" Shaft with 3.0" Reservoir Hi-Temp | Fox Shox
Price: $33
FOX-803-00-579
Rebuild Kit
| 4.0 x 1.125" Shaft Bypass with 3.0/3.5 Reservoir Hi-Temp | Fox Shox
Price: $94
FOX-803-00-676
Rebuild Kit
| 2.5 x 7/8" Shaft Bypass Shock with 2.5" Reservoir Hi-Temp | Fox Shox
Price: $28
FOX-803-00-678
Rebuild Kit
| 3.0 x 7/8" Shaft Bypass with 2.5" Reservoir Hi-Temp | Fox Shox
Price: $33
FOX-803-00-679
Rebuild Kit
| 3.0 x 1" Shaft Bypass Shock with 2.5 Reservoir Hi-Temp | Fox Shox
Price: $50
FOX-803-00-683
Rebuild Kit
| 2.0 x 5/8" & 7/8" Bypass with 2.0" Reservoir Hi-Temp | Fox Shox
Price: $19
FOX-803-00-754
Rebuild Kit
| 2.5 x 7/8" Shaft with 2.0" Reservoir Internal Bypass Hi-Temp | Fox Shox
Price: $42
FOX-803-00-755
Rebuild Kit
| 3.0 x 7/8" Shaft with 2.5 Reservoir Internal Bypass Hi-Temp | Fox Shox
Price: $53
FOX-803-00-795
Rebuild Kit
| 4.0 x 1.125" Shaft Bypass with 3.5" Reservoir Hi-Temp | Fox Shox
Price: $83