Brakes
CNC Series 623 Two Piston Caliper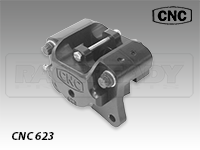 SERIES 623 Two Piston
623 Series calipers are a 2 piston design and weigh 1.5 pounds each. Piston diameter is 1.5". Can take up to a 10" rotor. Rotor thickness can range from .125" to .187". Caliper mounting bracket hole spacing is 3.25" and the brake pad size is 2".
Strongest available but still light weight.
Machined from billet alumimum.
Internal crossoever passage - No external tube assemblies to break.
Uses grade 8 bolt to hold pads, not a clevis pin.
Stainless steel pistons.


623R Caliper - Right
623L Caliper - Left
950-2 O-Ring kit
960-A Piston
1432 Bleeder screw
1433 Pad bolt and nut
Sku List:

CNC623L
CNC Series 623 Billet Caliper-Left
| Blue | CNC
Price: $140
CNC623R
CNC Series 623 Billet Caliper-Right
| Blue | CNC
Price: $140