Fresh Air Helmet Systems
Cactus Racing Super Lite Racing Helmet (SI-12)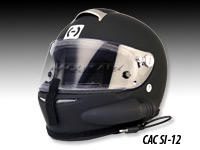 Si-12
Introducing the all-new Super Lite Si-12 from HJC. Everything you've always wanted in a helmet and less. The innovative shell technology allows HJC to build a fully equipped racing helmet that feels as light as feather, yet provides all the features and comfort you demand.
Advanced Super Lite Composite Weave Shell: Super lightweight. Superior fit and comfort using advanced CAD technology.
"ACS" Advanced Channeling Ventilation System: Full front to back airflow flushes heat and humidity up and out.
Polycarbonate Anti-fog Shield: Optically-superior 3D design provides 95% UV protection and anti-scratch coating.
Fire Resistant Comfort-Carbon Interior: Moisture-wicking and comfortable.
Optional R.S.T. Shields: Available in silver and blue.
HANS® Device Compatible: Pre-drilled for posts.
Durable, Lightweight Titanium Top Front Vent.
Deluxe Helmet Storage Bag Included.
Cactus Racing improves this helmet by adding a fresh-air intake, wires it for radio, and adds foam to eyeport area to improve sealing.
The SI-12 Helmet with 2010 rating has been discontinued. Please call before ordering to check for availibility.
SNELL 2010 RATING
New & Improved with Removable Liner!



Includes Earbud Plug and Velcro Closure for visor.

Earbud Kit Available Separately
Sku List:

CACHJCSI12-L
Cactus Racing HJC SI-12 Super Lite Racing Helmet-Lg.
| L | Black | Cactus Racing
Price: $759
CACHJCSI12-M
Cactus Racing HJC SI-12 Super Lite Racing Helmet-Med.
| M | Black | Cactus Racing
Price: $759
CACHJCSI12-S
Cactus Racing HJC SI-12 Super Lite Racing Helmet-Sm.
| S | Black | Cactus Racing
Price: $759
CACHJCSI12-XL
Cactus Racing HJC SI-12 Super Lite Racing Helmet-XL
| XL | Black | Cactus Racing
Price: $759
CACHJCSI12-XXL
Cactus Racing HJC SI-12 Super Lite Racing Helmet-XXL
| XXL | Black | Cactus Racing
Price: $759