Shocks
Bilstein-9100 Series-External Bypass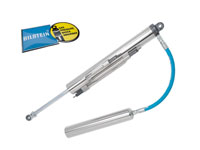 9100 External Bypass
External Bypass shocks offer position sensitive adjustability. Damping adjustments for rebound and compression can be made externally, via High Flow Metering Check Valves. Simply turn the adjuster screw clockwise to increase damping force and counterclockwise to decrease damping force.
OPTIONS
2.65" or 2" Body (OD)
Hose lengths and fittings (Fittings Options: Straight, 90 degree, 45 degree)
Custom Valving
Bypass Tube Options
Standard or Custom* Bypass tubes (OD)
5/8" or 7/16" Bypass tubes (OD)
Reservoir Options
Top Mount
Bottom Mount
Bottom Mount "Piggy Back"
Special Notes:
External Bypass dampers require an external spring source such as a coilover, leaf spring, torsion bar, or auxiliary coil. These dampers will not support a vehicle.
*Customers must provide a bypass layout drawing.
Sku List:

BILB469110BYST
Bilstein 9100 2.0 x 9.79 2 Valve Bypass Shock
| 2.0" X 9.79" | Bilstein
Price: $599
BILB609110BYST
Bilstein 9100 2.5 x 9.77 4 Valve Bypass Shock
| 2.5" X 9.77 | Bilstein
Price: $845
BILB609113BYST
Bilstein 9100 2.5 x 12.13 4 Valve Bypass Shock
| 2.5" X 12" | Bilstein
Price: $845
BILB609115BYST
Bilstein 9100 2.5 x 14.14 4 Valve Bypass Shock
| 2.5" x 14.14" | Bilstein
Price: $845
BILB609118BYST
Bilstein 9100 2.5 x 17.14 4 Valve Bypass Shock
| 2.5" X 17.14" | Bilstein
Price: $845