Shifters
Winter's Sidewinder Standard Shifter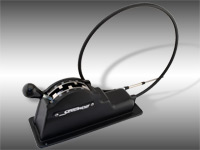 Winters Sidewinder Shifter's rugged, jam-proof design allows you to slam it into gear while fail-safe shift gate design makes it virtually impossible to accidently shift into reverse. Available in Standard or Reverse Pattern*. All Winter's Sidewinder Shifters include shifter linkage kit, and 5' shifter cable.
*Reverse Pattern Shifter for use with Reverse Pattern Valve Body.
We offer shifter models for GM TH 350,400, 700R4, 4L80E, Ford C-4, C-6, AOD, AODE, E4OD, and Chrysler TF 727/8, TF 904, and Toyota A340 or Jeep AW4.
*New Toyota-Jeep shifter available now. Fits Toyota A340 or Jeep AW4 automatic transmissions.
Also available as optional flush mount version at no extra charge. Select WNTR9103 when ordering. Please note when you order this WNTR9103 flush mount option, Winter's removes the plastic housing and installs universal flush mount side plates as shown below. This option is designed to mount the shifter in your console or dash.
Universal Flush Mount Side Plate (P/N 6636-02) is also available separately to convert standard shifter to flush mount. (requires 2)


Please note that shifters with "1R" suffix have a notched shift gate and are intended for off-road use. All other reverse style shifters are intended for drag racing.

Sku List:

WNTR107-1
Shifter
| T-400 | Std. Pattern | Winters
Price: $235
WNTR107-1R
Shifter
| T-400 | Rev. Pattern | Winters
Price: $235
WNTR107-2
Shifter
| T-400 | Rev. Pattern | Winters
Price: $235
WNTR157-1
Shifter
| T-350 | Std. Pattern | Winters
Price: $235
WNTR157-2
Shifter
| T-350 | Rev. Pattern | Winters
Price: $235
WNTR177-1
Shifter
| T-700R4 | Std. Pattern | Winters
Price: $235
WNTR187-1
Shifter
| 4L80E | Std. Pattern | Winters
Price: $235
WNTR187-1R
Shifter
| 4L80E | Rev. Pattern | Winters
Price: $235
WNTR197-1
Shifter
| Allison LCT1000, 2000, & 2400 | Std. Pattern | Winters
Price: $235
WNTR207-1
Shifter
| Torqueflite 8 / 727 / American Motors | Std. Pattern | Winters
Price: $235
WNTR207-1R
Shifter
| Torqueflite 8 / 727 / American Motors | Rev. Pattern | Winters
Price: $235
WNTR207-2
Shifter
| Torqueflite 8 / 727 / American Motors | Rev. Pattern | Winters
Price: $235
WNTR257-1
Shifter
| TF-904 | Std. Pattern | Winters
Price: $235
WNTR257-2
Shifter
| TF-904 | Rev. Pattern | Winters
Price: $235
WNTR307-1
Shifter
| C-6 | Std. Pattern | Winters
Price: $235
WNTR307-1R
Shifter
| C-6 | Rev. Pattern | Winters
Price: $235
WNTR307-2
Shifter
| C-6 | Rev. Pattern | Winters
Price: $235
WNTR317-1
Shifter
| AOD | Std. Pattern | Winters
Price: $235
WNTR327-1
Shifter
| AODE &4R70E | Std. Pattern | Winters
Price: $235
WNTR337-1
Shifter
| E4OD & 4R100 | Std. Pattern | Winters
Price: $235
WNTR347-1
Shifter
| A4LD | Std. Pattern | Winters
Price: $235
WNTR357-1
Shifter
| C-4 | Std. Pattern | Winters
Price: $235
WNTR357-1R
Shifter
| C-4 | Rev. Pattern | Winters
Price: $235
WNTR357-2
Shifter
| C-4 | Rev. Pattern | Winters
Price: $235
WNTR507-1
Shifter
| Powerglide | Std. Pattern | Winters
Price: $235
WNTR507-2
Shifter
| Powerglide | Rev. Pattern | Winters
Price: $235
WNTR607-1
Shifter
| Toyota A340 or Jeep AW4 | Std. Pattern | Winters
Price: $235
WNTR6636-02
Side Plate
| Flush Mount Side Plate-Each | Black | Winters
Price: $29.95
WNTR9103
Flush Mount Option
| No Extra Charge | Winters
Price: